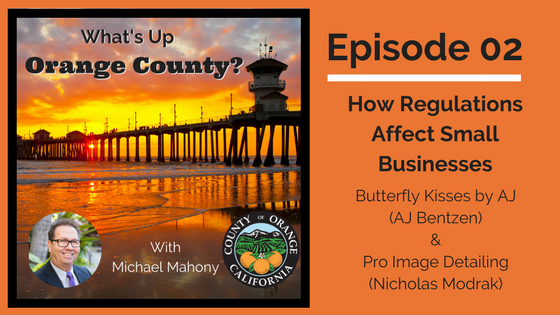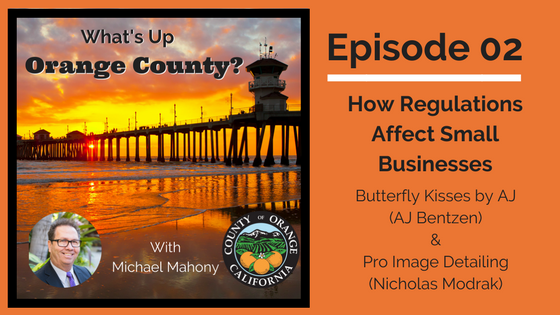 Mike's Takeaway
In this episode of What's Up Orange County, I talk to AJ Bentzen from Butterfly Kisses by AJ and with Nicholas Modrach from Pro Image Detailing.  AJ talks about her struggles knowing what to do while Nichholas talks about the horrendous regulatory issues facing his business.
AJ tells us that she didn't have the resources available to guide her in starting her business. The school she attended helped as much as they could, but she really needed advice on how to handle the registration of her business. She didn't know whether to be an LLC or an S-corp. She made decisions the best she could. Her struggles include the expensive nature of starting a business.
Listen to Episode 02
Episode 02 Summary
AJ Bentzen with Butterfly Kisses by AJ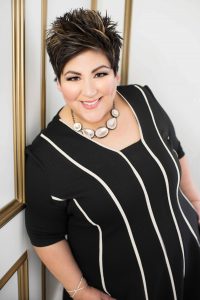 AJ is a permanent makeup artist from Newport Beach. She has been in business for 9 months. She graduated in July 2017 from International Institute of Permanent Cosmetics. AJ offers microblading, permanent eyeliner, lips and more. She says she is a perfectionist. She says that she really needed help figuring out how to start her business. She made a few mistakes that cost her a bit financially. It sounds like she could have used Business Catalyst Consulting when she first began. Her small business journey has been an educational one. She is now grasping everything she needs. AJ can be reached on the web at http://butterflykissesbyaj.com.
Nicholas Modrak of Pro Image Detailing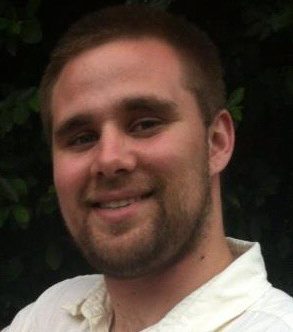 Nicholas Modrak from Pro Image Detailing is a mobile detailer in Orange and Los Angeles County. He is 100% mobile and will come to your home and business. Nicholas tells us about a surety bond that came out for car washes and mobile detailers. The idea was to help employees get paid fairly from car washes. Unfortunately they threw in the sole practicioners. The bond is from $9k to $20k per year depending upon your credit. He says this bond has forced many out of business. If someone operates without a bond they will fine you $10,000. If it is not paid within 30 days they up it to $200,000. This, too, is putting people out of business. Nicholas had to close down some of his locations as a result of this bond requirement. The cost is just too high when put alongside his other mandatory costs. The bond winds up forcing the owners to downsize and lay off people. Nicholas can be found on the web at http://proimagedetailing.com.
The Businesses Featured in This Episode
Contacting What's Up Orange County
Are you interested in being interviewed on What's Up Orange County? We offer FREE advertising to anyone who appears on the show.